Renting an office in Boston may be pricey, but plenty of tech companies still find ways to get creative with their space. We were lucky enough to get a tour of four of the hottest workspaces in the city. Check them out:
Athenahealth partners with hospital and ambulatory clients to perform administrative work at scale, driving financial results and helping patients get the best care. Mark Blair, executive director of athena environment, describes what makes the company's vibrant, Waterfront workspace special.
How many employees work at the office?
At our HQ in Watertown, we have more than 2,300 athenistas working to innovate healthcare.
When did you move in?
We first moved into The Arsenal on the Charles in 2005.
What's your favorite part of the space?
The workplace is vibrant. We love that we're able to renovate and change the look and feel inside and outside the buildings to meet the vision and culture of our company, while honoring the history of The Arsenal. Our office buildings are filled with open workstations, private meeting spaces and collaborative areas — the space radiates creativity with a side of entrepreneurial spirit. One of the best features of our Watertown office is our outdoors with vast open lawns, where you'll often find folks tossing a Frisbee  or playing fetch with their dogs. Many athenistas take advantage of our access to the Charles River and hold outdoor walking meetings or picnic table discussions, thanks to our campus-wide Wi-Fi .
Is there anything unique about your office that you'd like to share?
We have a close-knit tribe who appreciates our lush green, eco-friendly campus with its hip offices, swing sets, comfy couches and subsidized lunch. We love being able to bring our pets to work every day (rain or shine), Frisbee golf and food trucks. But the most unique thing we have going here is a company culture that stresses inclusion, teaching and learning — and this goes for all athenahealth campuses across the country.
E-commerce site Wayfair is basically the ultimate destination for home goods. Rebecca Slatkin, mobile software engineer manager of the iOS platform team, describes some of the company's quirkiest features, including a cardboard cutout of "The Rock."
How many employees work at the office?
Wayfair's headquarters at Copley Place office is home to more than 2,900 employees.
When did you move in?
July 2014.
What's your favorite part of the space?
There are no offices, which complements Wayfair's culture of transparency. We support an open and transparent workplace where our leaders sit among their teams with everyone at the same type of desk — from our CEO to our interns. This contributes to positive communication and collaboration across departments and levels.
Our products are proudly displayed throughout our open collaboration spaces, which are named appropriately to their themes. For example, our "Townhouse" collaboration space is adorned with an extravagant chandelier. It's great to interact with our products, too.
Navigating the various floors at a company this size can be difficult. Whimsy landmarks peppered throughout the floors serve as great reminders of where you are on the floor but also reminders to have some fun. I sit right near a cardboard cutout of The Rock and from time to time will run the occasional technical decision by him. I'd be remiss not to mention everyone's favorite part of our office: free snacks, kegs of beer and a game room.
Is there anything unique about your office that you'd like to share?
We recently expanded our office with a new space, which reflects our innovative and vibrant company culture. The new space includes an internal staircase that features a multi-story photo highlighting a fun moment in Boston's history — the flight of the Museum of Science's life-sized Brontosaurus over the Charles River. I'm dying to get a print of it for my apartment. The space also includes a new cafeteria, pool table and hanging chairs for our employees to hang out in. Sometimes between meetings, I head up there and sit in one of the new floating chairs and crank out some code.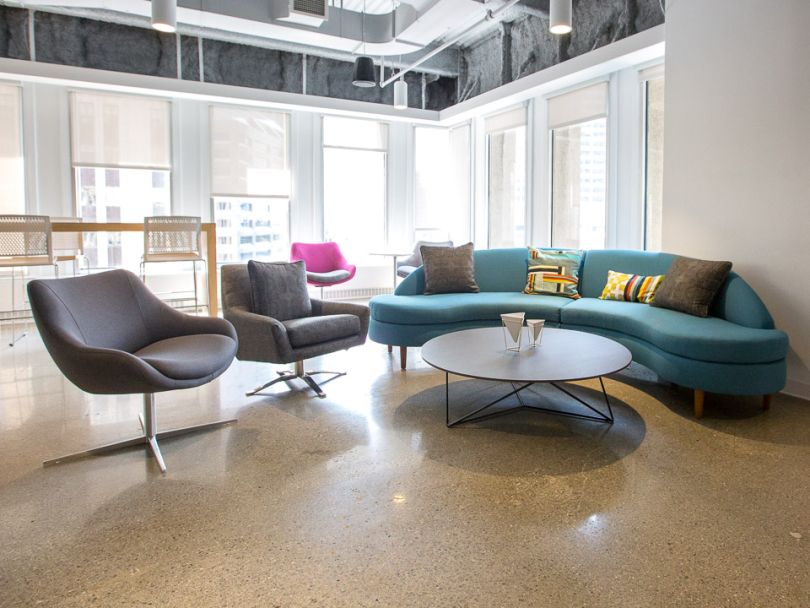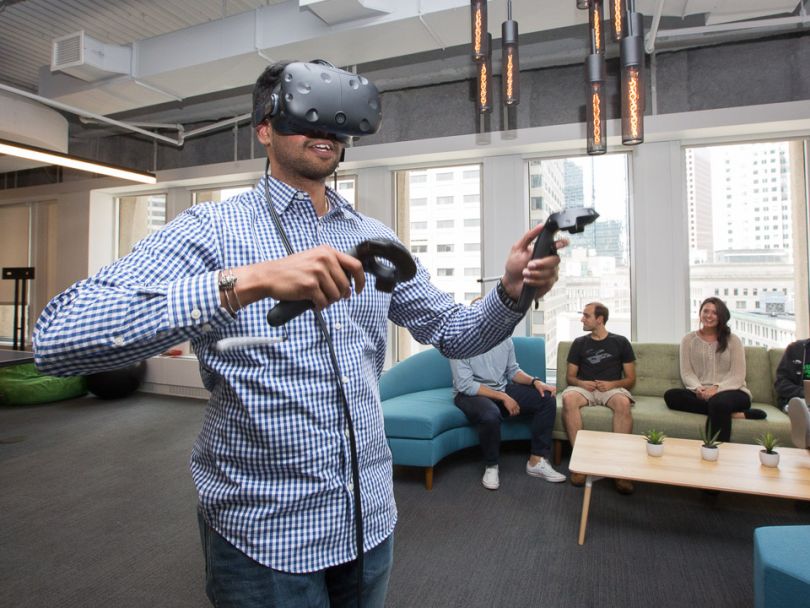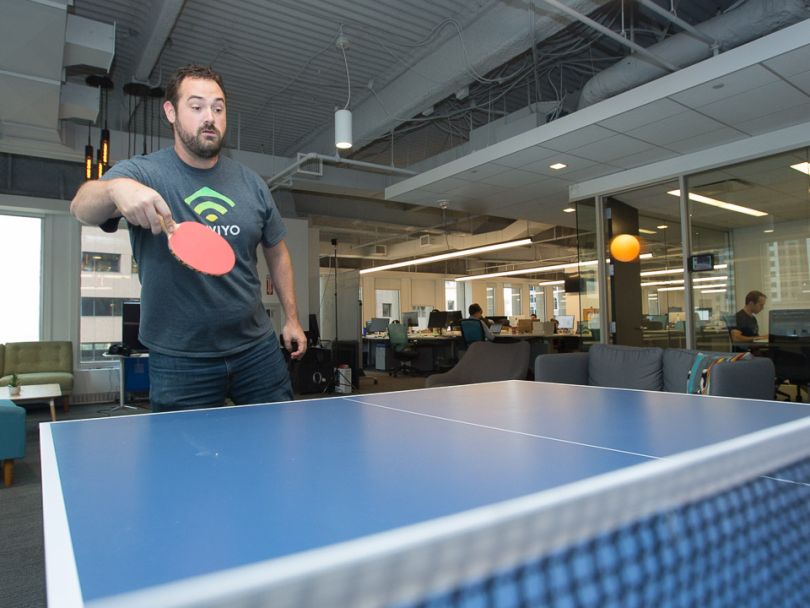 Klaviyo builds database technology that makes 1:1 personalized email easy. Instead of blasting customers with the same emails, companies use Klaviyo's software to aggregate everything they know about customers' individual profiles from a customer analytics database. Tammi Pirri-Day, people ops, gives us the lowdown on the company's downtown digs.
How many employees work at the office?
93.
When did you move in?
January 2017.
What's your favorite part of the space?
We've put a lot of thought into designing a space conducive to collaboration and learning. Sure, we have the things traditionally associated with high-growth startups, like a ping pong table, bean bags and Settlers of Catan games, though maybe that last one is unique to Klaviyo. But we also have a classroom-style training room; and we purposely limited the number of large conference rooms in favor of small collaboration areas instead. We've also left plenty of room to grow, with 25,000 square feet for under 100 employees — but given the rate with which we're hiring, space is filling in quickly!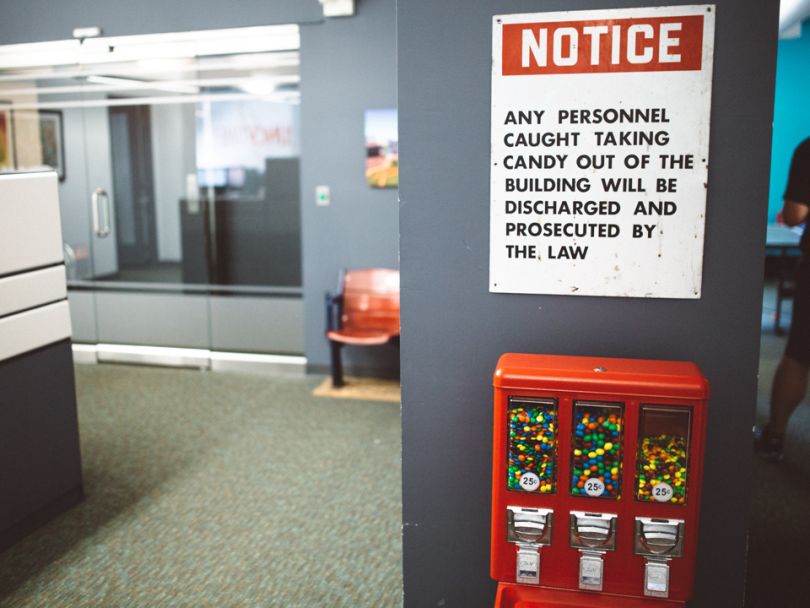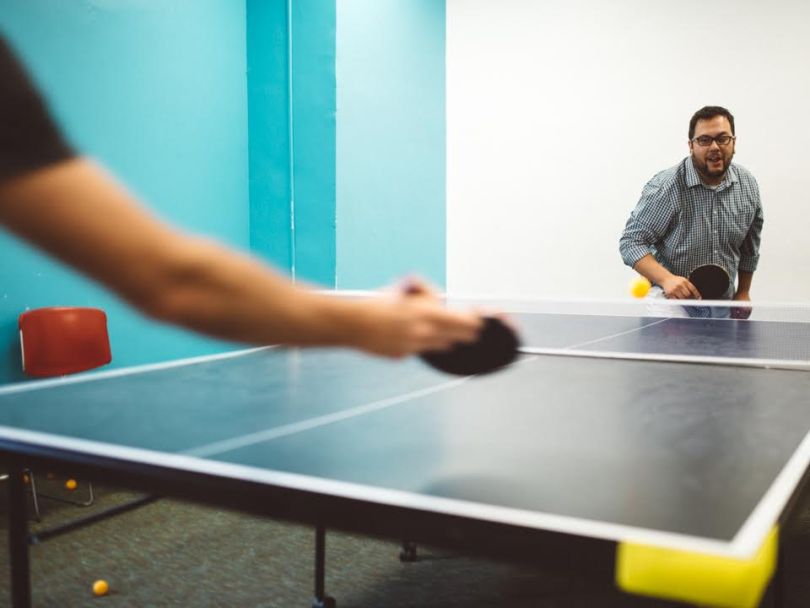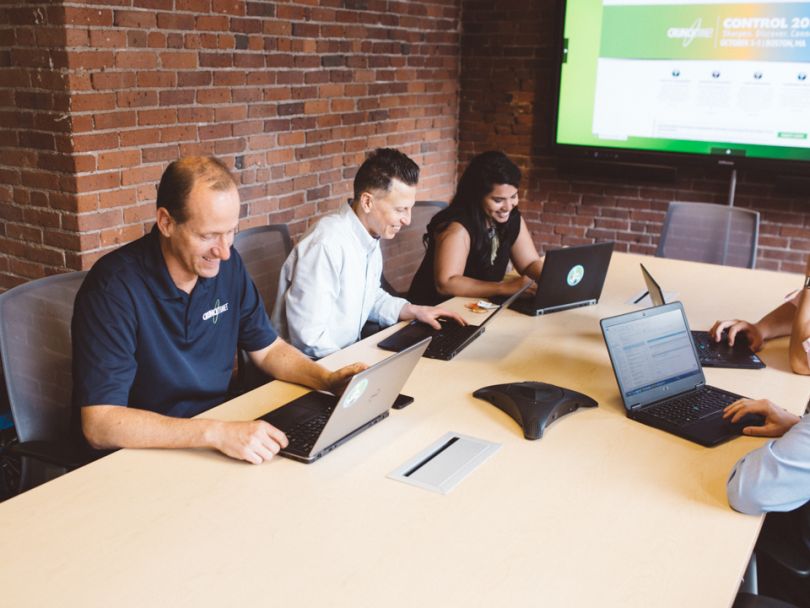 CrunchTime's restaurant management platform is the "back-of-house guts that powers the front-of-house glory." AKA, they provide a cloud-based enterprise restaurant management platform that helps restaurants and hospitality companies all over the world improve customer experience and cut costs. Head of marketing Paul Molinari shares what makes the food-focused office unique.
How many employees work at the office?
115 people work here at 129 Portland St.
When did you move in?
January 2013.
What's your favorite part of the space?
Communal ping-pong room.
Is there anything unique about your office that you'd like to share?
Our location. We're in an old West-End loft-style building right in the thick of the Celtics and Bruins, bars and restaurants, and North Station.