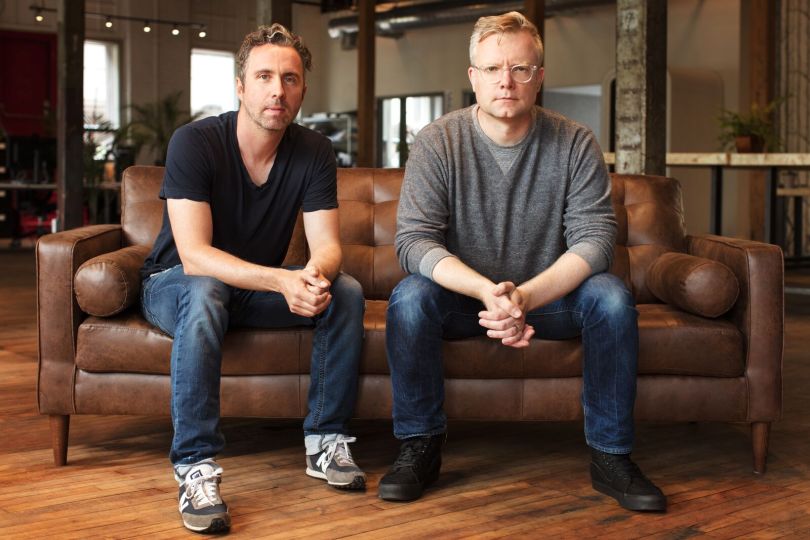 We all have great ideas now and then, but very few people take those concepts and turn them into successful businesses. That takes gumption, fortitude and quite a bit of business savvy.
For the following three founders, enthusiasm and strong ideas have led to fast-growing businesses that are disrupting fields like travel, app development and more. We asked them to share their stories about the moment they knew they were onto something big.
Frederic Lalonde, CEO and founder of Hopper, shares the story of pivoting his business from a destination discovery platform to an app that tells you when you should book your flight.
Where did the idea for Hopper come from?
I previously co-founded a company called Newtrade Technologies, which was acquired by Expedia in 2002. My Hopper co-founder, Joost Ouwerkerk, also worked at NewTrade and joined Expedia. At Expedia, I was responsible for developing the Direct Connect product strategy and signing up over 10,000 hotels to the Expedia platform. I later moved on to participate in various Expedia M&A activities, including the acquisition of Hotels.com, TripAdvisor and eLong.
I learned a ton from my time at Expedia, but I also noticed some of the challenges that emerged when the travel planning process moved away from traditional travel agents and shifted to online travel booking. When Joost and I founded Hopper in 2007, our goal was to utilize big data to make the travel planning process easier. Although our goal hasn't changed, the product has changed completely.  
How so?
The first iteration of Hopper was web-based. Our technology searched the web, aggregating content from travel-related blogs. The site would generate specific user recommendations for travel destinations based on vague search criteria (for example, a beach near a town with hiking nearby and a flight less than $400).
Our chief data scientist created a research tool that we thought may be helpful to reporters. Essentially, you could enter two airport codes and the tool would share flight insights like when you should buy, when you should fly, etc.
New York Times' Frugal Traveler column ended up writing a feature story about that specific tool, which highlighted that our online research report tool could help travelers save money on airfare. The story took off, becoming the most shared story on the the New York Times website that week. Over a million people visited our site in three weeks.
Suddenly, we realized that there was far more anxiety around the flight purchasing decision than we initially anticipated. I was then faced with the decision of whether to pivot. We could either continue trying to build the product we had been working or shut it down and focus on this concept of when to fly and buy.
What did friends and family say when you first told them about it?
The pivot was a very chaotic time for us because we had spent so much time working on this destination discovery platform. Our team was 50-50 on whether we should pivot, and a few people left when the decision was made. Our three investors were split between pivot, stay the course and don't know. I felt strongly though that this was product market fit and we needed to chase this opportunity.
When did you know your company was really taking off?
There's been several points along the way that reassured me that this was working. We scaled pretty quickly from 1 million users to over 10 million users. Now we're at over 30 million users. Our App Store and Google Play ratings are nearly perfect and our users write us constantly about how much they love the app. Several top-tier publications named Hopper one of the best apps, and we won accolades like Apple's App Store Best of 2015 and the Google Play Award for Standout Startup.
Julie Yoo, chief strategy officer and co-founder of Kyruus, explains how she knew there was a need for products that help patients find the right healthcare provider at the right time.
Where did the idea for your company come from?
As a practicing cardiologist, my co-founder and CEO, Graham Gardner, was on the receiving end of one of the key problems that Kyruus solves: upwards of 25 percent of patients are referred to the wrong type of provider the first time, resulting in patients not getting the care they need in a timely manner, and precious provider capacity and resources being wasted.
Physicians were often relying on anecdotal information, personal relationships and word-of-mouth recommendations to make referrals, even though that information often was not specific, up-to-date, nor comprehensive enough to inform high-quality referral decisions. Right when we were founding the company, we read Michael Lewis' book, "Moneyball," which inspired us to conceive of a platform that could apply sabermetrics-like principles to physician networks by using data and analytics instead of relying on anecdote and perception. My personal experience as an enterprise software developer in the e-commerce space informed the initial design and development of the platform that ultimately became ProviderMatch, which is now recognized as the market leader in its space.
How long did it take you to act on that idea?
We didn't waste much time: we started the company in late 2010, and built and launched the first version of the product with paying customers by mid-2011.
What did friends and family say when you first told them about it?
The reaction of most people outside of the healthcare industry was, "Something like this doesn't exist already?" The value proposition immediately resonated with the physicians amongst our friends and family, as they were often asked to make referral recommendations and felt they didn't have the right tools and information at their disposal to make well-informed decisions.
Any advice for someone who believes they have a good business idea?
Ideas are a dime a dozen; it's all about execution. And I've never known a scaled company to have stayed exactly consistent with whatever its original business idea was. (Jeff Bezos' first shareholder letter stated that they were going to focus on selling books.) While you should have a strongly held set of beliefs in your idea, also anticipate having to morph that idea as you get exposure to the market and evolve your product.
Kalle Kilpi, Midaxo's co-founder, shares how his company's mergers and acquisitions software was born. Hint: It was not overnight.
Where did the idea for your company come from?
My co-founder has a mergers and acquisitions background and I have a software entrepreneurship background. Kaija Katariina had done M&A throughout her corporate career and then turned into an M&A consultant. She was trying to find proper tools to facilitate complex M&A projects but could not find any. I had developed software for managing projects and analyzing companies, and ultimately got interested in M&A, as it seemed like the ultimate application for those technologies. We decided to join forces to create an M&A software company and go after the huge opportunity we saw in global M&A.
How long did it take you to act on that idea?
Kaija Katariina invested in my previous company almost immediately after hearing about our initial concepts for M&A. That company had other lines of business, too, and it took about a year and a half before we realized we wanted to go all in on M&A and bought all the intellectual property rights from that company and started Midaxo.
When did you know your company was really taking off?
We knew we had traction almost immediately after we took the product to market and started landing some really big-name early customers like HP. Another good sign was when our current CEO Ari Salonen left his position as the North American general manager of a public software company to join us.
Was there ever a moment where you doubted yourself?
Of course. When the market is new, and you are creating a product that's never existed before, sometimes you think you are insane. That is a good thing, because then you constantly challenge yourself and wonder what you could be doing better. Even if you are growing fast, (over 100 percent per year) if doesn't always feel that fast. It feels like you are banging your head against a wall all the time, but then you have to remember to take a take a step back and look at the big picture.
Any advice for someone who believes they have a good business idea?
Start experimenting with it, but don't expect an overnight success. Try to get a prototype done as quickly as possible and then see how it's received. We spent almost 3 years prototyping and testing the response before we really took the product to market and pushed the throttle. Expect that you will have to change the product many times before it's well received and be honest with yourself about whether it's ready or not.