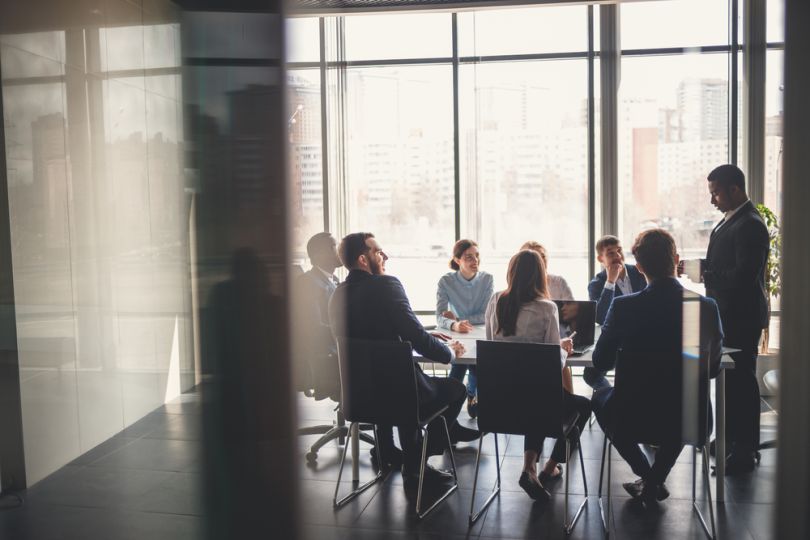 The new year meant new leadership for a number of Boston tech companies looking to start 2019 strong. Here were just five of the key exec hires that caught our attention in early January.
Conversational marketing platform Drift made power moves to beef up its sales, marketing and engineering squads this month, and made five key hires in January: Robin Neviaser, SVP of marketing; Melissa Leffler, VP of engineering; Jill Chiara, VP of enterprise sales (pictured); Mark Kilens, VP of content and community; and Kate Adams, sr. director of marketing. Since 2018, the company has grown its team by more than 200 percent — and they're just getting started.
Health IT company Kyruus announced that Chris McMahon will serve as the new senior vice president of people, bringing more than 15 years of experience in acquiring top talent. McMahon was previously vice president of people and culture at Turbonomic, a local enterprise software company. Kyruus is currently in the midst of relocating its Boston headquarters to the Fort Point area to accommodate its rapid growth.
Qstream hired VP of Sales Gary Greenberger this month. The sales capabilities platform provider said the new hire will support Qstream's continued growth and drive its prominent position in the microlearning industry. Greenberger is a seasoned sales veteran with a track record of "exceeding performance goals in both billion-dollar and entrepreneurial organizations," according to a statement issued by the company. Prior to joining Qstream, he was VP of sales with Sample6 and at Vela Systems.
Mimecast, which offers security for email, announced that Karen Anderson joined its leadership team as its new chief human resources officer, bringing over 20 years of experience in HR. Prior to Mimecast, Anderson worked at Pfizer, Bayer Canada and Alylam Pharmaceuticals. She will be stepping into a newly created role at Mimecast, where she will lead the company's people and culture strategy and support its global expansion. She'll also help enhance and grow Mimecast's internal career development program.
Boston-based video conferencing company Owl Labs announced a new CEO: former CarGurus exec Frank Weishaupt. Formerly the SVP of sales at CarGurus, Weishaupt will work on enhancing Owl Labs' goal of making the perfect video conferencing product for hybrid teams of remote and in-office employees. At CarGurus, Weishaupt played a major role in orchestrating the company's growth and successful IPO in October 2017. Prior to joining CarGurus, Weishaupt served as COO at Jumptap, which was acquired by Millennial Media. He also served in key executive roles at Yahoo and Criteo.