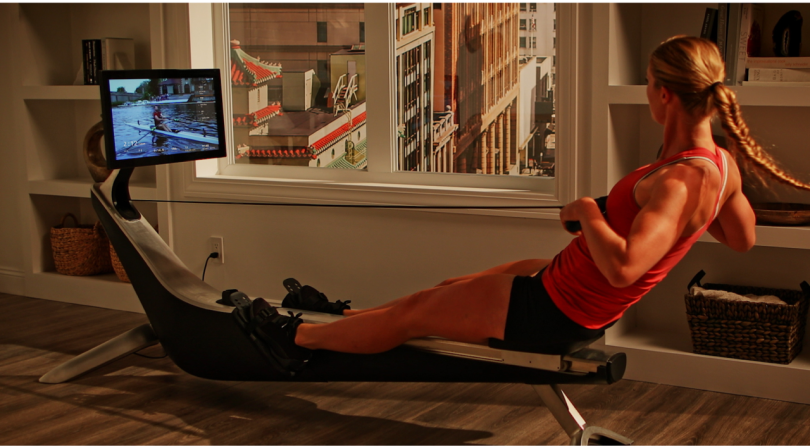 Hydrow doesn't manufacture any rowing machines — they make live, outdoor-reality rowers that bring the experience of rowing on the water to your home. And they just raised $20 million in funding to show you what the buzz is about.
Launched in 2017 by U.S. National Team Rowing Coach and Head Of The Charles Regatta winner Bruce Smith, Hydrow offers users a virtual "on-river" outdoor rowing experience from the comfort of their home. According to Smith, a workout with Hydrow's machine engages 86 percent of the body's muscles compared to 44 percent for biking or running, resulting in up to 400 calories burned in just a 20-minute workout.
Not too shabby.
Private investment firm L Catterton led the most recent investment, which will be used to expand Hydrow's reach and connect with consumers across the U.S.
"When we launched Hydrow, our goal was not only to deliver an accessible, convenient and efficient workout, but also to build human connection through the communal and interpersonal aspects of rowing," said Bruce Smith, founder and CEO of Hydrow, in a statement.
In-home fitness has become all the rage in 2019, with companies like Mirror and Peloton striving to make spin, yoga, pilates, barre and dozens of other exercises more accessible and personalized for consumers. Now, Hydrow wants to give rowing the same treatment.
Hydrow delivers a powerful and unique rowing experience that allows consumers to personalize each workout..."
With hundreds of live and on-demand rowing workouts, supplemented with yoga and strength training, Hydrow has created an impressive selection of classes led by world-class trainers, including many who train and compete for the U.S. National Rowing team.
Whether you want to row solo or as a team, workouts are streamed live from the water in locations ranging from the hot and humid Miami to the beloved Charles River. Hydrow currently offers over 200 on-demand sessions (which are added to daily) in addition to live daily rows and special challenges. For the ultra-competitive, leaderboards are available.
To date, Hydrow has sold 1,500 rowers in pre-sale and is expected to start shipping nationwide this spring. They currently employ 42 people in Cambridge and look to have 60 employees by the end of year.
"Combining ergonomic design, high durability and unmatched content, Hydrow delivers a powerful and unique rowing experience that allows consumers to personalize each workout while engaging with Hydrow's elite instructors," said Michael Farello, managing partner of the L Catterton Growth Fund, in a statement.