Ringing a gong is fun and all, but the following sales teams take motivation to whole new level. We caught up with seven local salespeople in the tech industry who dished on what constitutes a "win" on their sales teams, and how their teams celebrate said wins to encourage their members to consistently perform at their personal best.
Some of the craziest motivators? Red Sox games, trips abroad and fancy steak dinners.
Darcey Harrison, Global VP of sales, service, partnerships, said at Markforged, a "win" means figuring out what a prospect really needs — and then giving that to them.
What constitutes a sales success at your company?
Uncovering the true needs of a prospect and, in the process, transforming the way they do business is a huge sales success for Markforged.
What are some of the best ways your team celebrates big wins?
We love to hit our giant sales gong, and we love to reward the team members who close a big sale, recognizing them at regular company all-hands meetings and even taking them out to dinner at a restaurant of their choosing.

Ryan Hansen, senior account executive at Datadog, said he tries not to dwell on closing deals for too long, but rather focus on what's next.
What constitutes a sales success at your company?
Sales success can be defined differently depending on who you ask. For me, sales success comes down to the ability to drive new opportunities and close new business first and foremost. It also includes being able to adapt to change, constantly take on new challenges and learn from them, while building a brand for yourself both internally and with your customers. Success means positioning yourself to grow your career.
What are some of the best ways your team celebrates big wins?
We like to celebrate big wins, whether that be during our monthly team and company outings, or with your direct managers, directors and colleagues over a nice dinner. When I have a big personal win like a promotion or a key deal, I don't spend too much time dwelling on it. Usually I try to stay focused, appreciate and give credit to those who helped, and then put it behind me so I can concentrate on what's next. With that said, we've done some fun events to celebrate success, like going to Sox games as a company, doing a boat cruise on the Spirit of Boston, etc.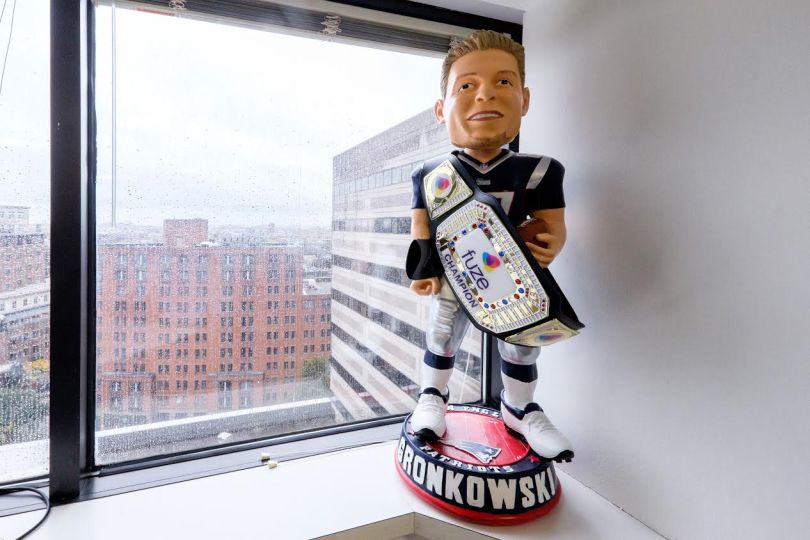 VP of Worldwide Commercial Sales Ted Engel said Fuze emphasizes winning and losing as a team, and the "prizes" reflect that.
What constitutes a sales success at your company?
At Fuze, the deals we close are often multi-year deals and they are also end-to-end across the entire business. For us, sales success means that you have gone wide in the account and gotten organizational buy-in for major digital transformation.
What are some of the best ways your team celebrates big wins?
We celebrate individual success at multiple places in the sales process at Fuze, but bonuses are focused on the team reaching a certain goal, not the individual. And at the end of the quarter, I always celebrate the contributions of everyone with an outing that reflects the success of that quarter. One quarter that may mean McDonald's and the next The Capital Grill. We win and lose as a team.
One particular memory that stands out to me occurred on the last day of a quarter a couple years back. We came into the office on that Friday morning, and we were only at 30 percent of our number. The entire team rallied all day until every last dollar was off the table — about 9 p.m., and we closed the day at more than 100 percent of goal. Everyone was cheering all day, even the executive team got involved, and it was truly the most fun I've had in a single day at Fuze. And in that example, an outing to Del Frisco's that same evening was in order.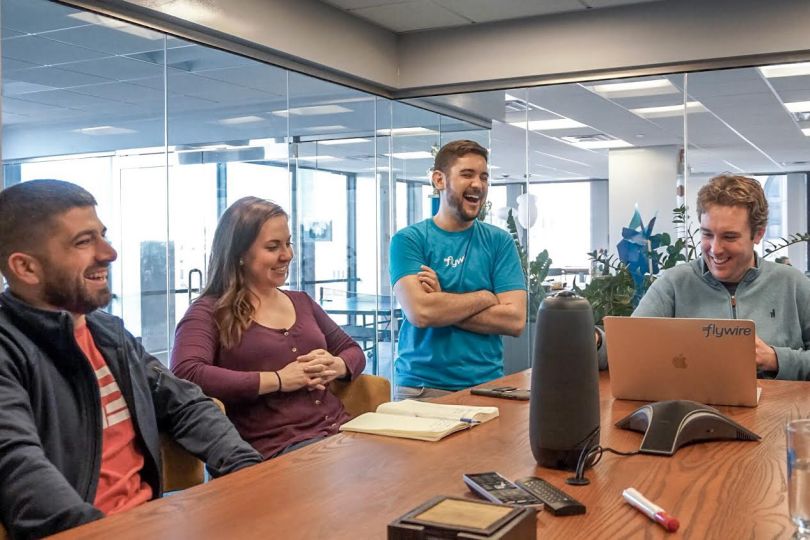 Colin Smyth, director of North American sales, commercial, said members of Flywire's Boston team who are doing particularly well in their role may get the opportunity to visit their sister office — in Singapore.
What constitutes a sales success at your company?
At Flywire, a sales success is more than just hitting a quota. Sure, that's one indicator of whether we're doing our jobs, but building relationships is what makes us successful. We rely on our relationships with clients and prospects to close accounts — whether through a better understanding of the client's business or by fostering trust. We encourage members of the sales team to build strong relationships with other FlyMates as well. Getting to know coworkers on a personal level aids in communication and execution when we work cross-functionally. In my opinion, the best parts of working at Flywire are the open communication across the entire company and our collective willingness to put in the work that moves the company forward. We've created a culture where we are all in the fight together. When we win, we win together, and when we lose, we lose together.
What are some of the best ways your team celebrates big wins?
It is so important that a sales organization feels fully connected to one another and invested in the team's overall success. That's why our celebrations often reinforce the very things that make us successful at Flywire. For example, we all love food, so team dinners are a popular way to celebrate wins. Those dinners inevitably turn into informal and organic learning opportunities where FlyMates swap stories about what has worked and what hasn't in their sales efforts. We're also a global company with 10 offices worldwide. That gives us the ability to use global travel as a way to celebrate wins. So, if a member of our Boston team has a big win, we may send that person to our Singapore office for a time. This gives that individual an opportunity to share his or her approach with members of our international team, as well as a chance to learn from the way we do business in Singapore — all while strengthening bonds across the organization. The travel aspect also provides a nice incentive for FlyMates who enjoy exploring new places and meeting new people.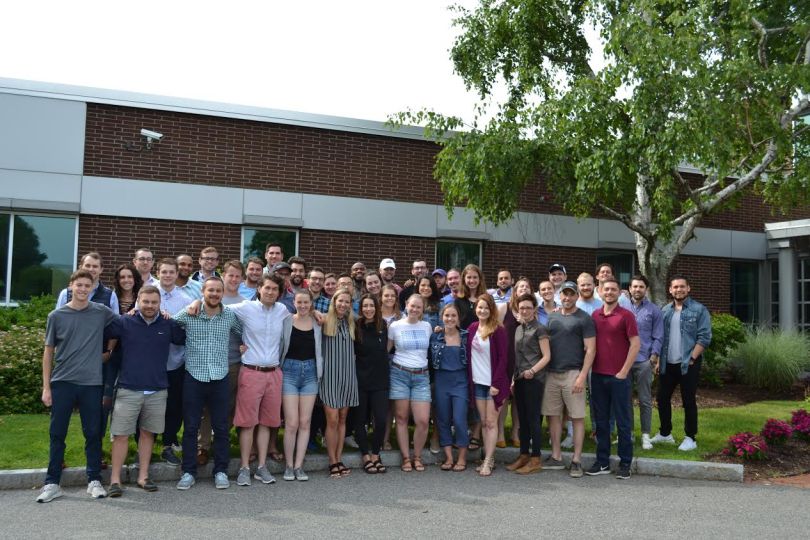 Samson Horne, account executive at FareHarbor, said giving recognition where it's due is critical to keeping employees' morale high — even if that means something as simple as giving them a gift card and a pat on the back.
What constitutes a sales success at your company?
Before we can get a client on FareHarbor, they need to be shown the platform, have it built out to their specifications, and be trained on it in order to get live. Once that company has the platform on their website, that is when we truly consider a sale successful.
What are some of the best ways your team celebrates big wins?
We love to go out together and celebrate as a team; getting drinks or even doing group activities after a big company goes live or new people come aboard. We also enjoy celebrating the smaller individual and group victories that people may have by giving out gift cards, recognition and other rewards.
One of our biggest wins of 2018 was being acquired by the world's traveling leader, Booking Holdings, which owns Booking.com. My favorite way we celebrated this was going on a cruise with our whole office; we left the office early after hitting our milestone for that day. Weekly, our office finds ways to celebrate when we can. You have to always give recognition!
Sales Manager, Commercial Market, Sean Lally, said that BitSight Technologies values having a supportive culture — and they promote that by having individual reps share their wins with the team.
What constitutes a sales success at your company?
When multiple departments (marketing, consulting, engineering, sales development etc.) pull together to help our customers identify and mitigate risk with our platform. It all starts from that initial cold call to walking the prospect through our process and ultimately helping them strengthen not only their own security posture but also the security posture of their third-party ecosystem.  
Every sales cycle is a learning experience, not only for the individual rep, but for the entire group. The different teams in Boston, Raleigh, NC and Lisbon collaborate on a regular basis to ensure that everyone is audible-ready and visually dominant and consistently driving value for that next opportunity.
What are some of the best ways your team celebrates big wins?
Culture is highly valued here at BitSight, from having individual reps get up in front of the entire company at meetings to talk about a recent big win to rewarding that person with a week on the beach in February. Our President's Club is something that the entire team drives toward and is a great way to celebrate success together.
Other events include bi-annual kickoffs, monthly wine tastings, ski trips to Loon Mountain, and, most of all, sneaking downstairs at our Back Bay Boston office to celebrate the six-time Super Bowl champions at the Patriots parade.